Dynamometer Operator - Pendergrass, GA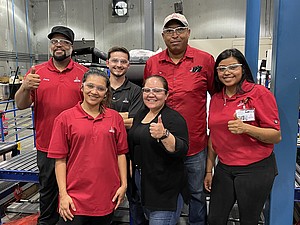 Call 844-55DEUTZ or email careers@deutzusa.com to get started!
Job Summary:
Dyno test DEUTZ remanufactured industrial diesel engines according to established procedure and instructions.
Essential Functions:
Prepare finished engines for dynamometer test.
Perform engine dynamometer test using facility dynamometer systems
Operate dynamometer control and data acquisition systems
Use lift and hoist equipment to move engines and parts.
Use care and attention when handling engine components.
Skillfully use hand, air and electric power tools
Skillfully use torque tightening tools such as torque wrenches
Maintain attention to detail under varying circumstances.
Maintain neat, clean, and safe work environment.
Other duties as assigned.
Qualifications:
Experience/Training/Education:
Experience in a manufacturing environment
Experience with IC engines
Basic computer skills
Knowledge/Skills/Abilities:
Knowledge of and experience with industrial engines and components
Knowledge of and experience with industrial engine assembly
Knowledge of and experience in manufacturing environments
HS Education or equivalent
Physical and Environmental Elements:
Frequent, brief exposure to typical engine cleaning and manufacturing environments.
Ability to lift up to 50 lbs.
Exposure to running engines in a closed environment with appropriate protective gear
Warehouse and dynamometer room environment. Subject to noise, dust, diesel fuel, oil. No A/C.
PPE Requirements:
Standard PPEs as facility requires- Steel Toe Shoes, Safety Glasses, earplugs where required.
Follow company COVID PPE requirements as stated by DEUTZ COVID Policy.
This job description in no way states or implies that these are the only duties to be performed in this position. The employee will be required to follow other instructions and to perform other duties requested by the supervisor or manager.
This job description does not imply a written or oral contract.
DEUTZ Corporation
3883 Steve Reynolds Blvd.
Norcross, GA 30093
C/O HR and Administration Dept.
Tel: 844-55DEUTZ
careers@deutzusa.com