Material Handler - Pendergrass, GA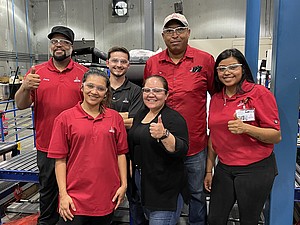 Call 844-55DEUTZ or email careers@deutzusa.com to get started!
Job Summary:
Perform duties related to component and finished goods movements within plant. Physically handle components (engine parts), operate various material handling equipment (lifts, hoists).
Essential Functions:
Put up stock according to prescribed procedures
Pull stock for production orders per prescribed procedures
Organize stock per prescribed procedures
Perform data entry functions related to stock put-up, pull, and inventory movement
Move finished goods from end of assembly to designated areas
Other duties as assigned
Qualifications:
Experience/Training/Education:
1 – 3 years Previous experience in a warehouse environment
Previous Experience with operating material handling equipment
Proficient data entry skills in an inventory management system
HS education
Knowledge/Skills/Abilities:
Able to learn and become skillful with relevant SAP system transactions
Able to learn and become skillful with on-site material handling equipment
Demonstrate attention to detail and willingness to learn
Physical and Environmental Elements:
Typical warehouse environment- heated, no A/C
Ability to lift up to 50 pounds on occasion
Physical and Environmental Elements:
Continuous exposure to typical engine manufacturing environments. No A/C.
All positions require use of Personal Protective Equipment including steel toed shoes, safety glasses, and face masks
This job description in no way states or implies that these are the only duties to be performed in this position. The employee will be required to follow other instructions and to perform other duties requested by the supervisor or manager.
This job description does not imply a written or oral contract.
To apply please submit your resume, cover letter and salary expectation to careers@deutzusa.com with the job opening you are applying to in the subject line.

DEUTZ Corporation
3883 Steve Reynolds Blvd.
Norcross, GA 30093
C/O HR and Administration Dept.
Tel: 844-55DEUTZ
careers@deutzusa.com