DEUTZ® Xchange to Provide Remanufactured Engines for JLG's AWP Reconditioning Program
Norcross, GA and McConnellsburg, PA (April 25, 2016) – DEUTZ Corporation will provide JLG Industries, Inc., an Oshkosh Corporation (NYSE:OSK) Company, with DEUTZ Xchange remanufactured engines for JLG's aerial work platform (AWP) reconditioning program.
"JLG was particularly pleased with the three-year transferrable warranty that we offer on all our DEUTZ Xchange engines," said Robert Mann, DEUTZ Corporation's president and CEO. "That warranty, our quality product, and the fact that our remanufactured engines can be serviced by any DEUTZ distributor were key factors that helped us earn this business.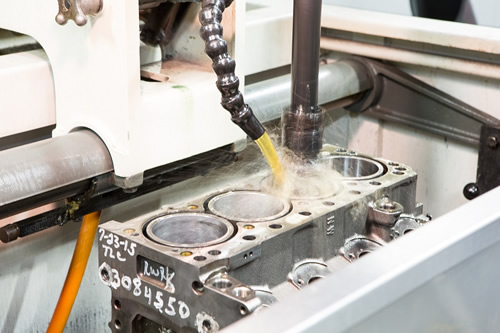 According to Christopher Mellott, JLG Industries vice president of aftermarket sales in North America, the JLG reconditioning program is a leader in the lift and access, construction, and rental industries, thanks in large part to the scope of work. "JLG has very strict OEM guidelines that we follow for all of our reconditioned products. Our scope of work is very detailed, making our reconditioning program similar to our new manufacturing program. In the end, customers receive a machine that has the same reliability as a new one."
As part of the reconditioning program, AWP engines are remanufactured or resealed, and the machine's boom is refurbished. This program, provides buyers looking to grow their fleets or replace worn equipment with another option at approximately half the cost of a new unit. It also reduces the amount of material destined for landfills, saving 12 tons of steel, water, and other resources when compared to manufacturing a new machine.
"We were looking for a global partner that could support our growth and provide quality product and support," said Mellott. "Selecting DEUTZ offered us the ability to partner with the leading engine OEM to deliver the consistency and reliability we know our customers have come to expect."
To supply JLG with enough remanufactured engines for its reconditioning program, DEUTZ's Pendergrass, Georgia, facility has increased production from approximately five engines per day to eight. A streamlined process will allow DEUTZ to deliver Xchange engines to JLG's Bedford, Pennsylvania, facility on a just-in-time basis, controlling inventory costs while still meeting JLG customers' expectations on turn-around time for their machines.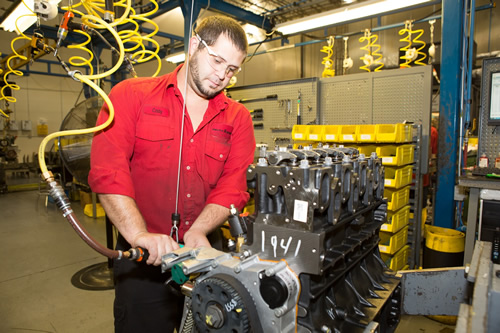 "We strongly believe in investing in the latest equipment, and highly trained personnel," said Michael Wellenzohn, a member of the DEUTZ AG board of management with responsibility for sales, service, and marketing. "Our new arrangement with JLG serves as a reminder that our commitment continues to provide results."
The DEUTZ-JLG partnership has already begun to pay dividends for both companies. One of North America's largest equipment rental companies recently purchased 137 reconditioned AWP units from JLG, explicitly requiring that DEUTZ Xchange engines be installed in each.
"We're very excited about this program," said Michael Klco, director of service sales for DEUTZ. "We strongly feel that this agreement with JLG is a testament to the detailed process we follow to provide top-quality remanufactured engines."
For more information about JLG, visit www.jlg.com. To learn more about DEUTZ Corporation and its complete line of diesel and natural gas engines, visit www.deutzamericas.com.
ABOUT DEUTZ CORPORATION:
For more than 150 years, DEUTZ engines have supplied customized, cost-effective power to a broad array of machine types and market segments. The nine millionth DEUTZ engine was produced in 2015. From its headquarters in Norcross, GA, DEUTZ Corporation, a subsidiary of DEUTZ AG, supports its product range of 30- to 700-hp diesel and natural gas engines. The company is committed to providing optimized power solutions from the drawing board to prototype to production release. The organization serves as a sales, service, parts and application engineering center for the Americas, employing nearly 200 people. DEUTZ Corporation also operates a value-added production facility for some of its key OEM partners, as well as an engine remanufacturing facility in Pendergrass, Georgia. Strategically located DEUTZ Power Centers and Service Centers are designed uniquely support both OEM partners and end users. For more information, visit www.deutzamericas.com.
About JLG Industries, Inc.
JLG Industries, Inc. is a world-leading designer, manufacturer and marketer of access equipment. The Company's diverse product portfolio includes leading brands such as JLG® aerial work platforms; JLG and SkyTrak® telehandlers; and an array of complementary accessories that increase the versatility and efficiency of these products. JLG is an Oshkosh Corporation company [NYSE: OSK]. For more information about JLG Industries, Inc., visit www.jlg.com.
About Oshkosh Corporation
Oshkosh Corporation is a leading designer, manufacturer and marketer of a broad range of access equipment, commercial, fire & emergency, military and specialty vehicles and vehicle bodies. Oshkosh Corporation manufactures, distributes and services products under the brands of Oshkosh®, JLG®, Pierce®, McNeilus®, Jerr-Dan®, Frontline™, CON-E-CO®, London® and IMT®. Oshkosh products are valued worldwide by rental companies, concrete placement and refuse collection businesses, fire & emergency departments, municipal and airport services and defense forces, where high quality, superior performance, rugged reliability and long-term value are paramount. For more information, please visit www.oshkoshcorporation.com.
®, ™ All brand names referred to in this news release are trademarks of Oshkosh Corporation or its subsidiary companies.
Forward-Looking Statements
This press release contains statements that the Company believes to be "forward-looking statements" within the meaning of the Private Securities Litigation Reform Act of 1995. All statements other than statements of historical fact, including, without limitation, statements regarding the Company's future financial position, business strategy, targets, projected sales, costs, earnings, capital expenditures, debt levels and cash flows, and plans and objectives of management for future operations, are forward-looking statements.
Media Contacts:
Jeff Wolfe
Marketing Manager
DEUTZ Corporation
770-564-7250
wolfe.j@deutzusa.com
Lynette S. Von Minden
Swanson Russell for DEUTZ Corporation
402-437-6457
lynettev@swansonrussell.com
Sally Staab
Sr. Manager Marketing Communications, Aftermarket
JLG Industries
301-745-3823
sastaab@jlg.com
Melissa Einfrank
Godfrey for JLG
717-393-3831
meinfrank@godfrey.com