DEUTZ Corporation to Exhibit Several Engine Models at World of Concrete (Booth N2637)
Norcross, Georgia, (January 25, 2016) – DEUTZ Corporation will be exhibiting at the 42nd annual World of Concrete show, displaying an assortment of diesel engines at Booth N2637. The show takes place this year from February 2-5, 2016 at the Las Vegas Convention Center in Las Vegas, NV.
"World of Concrete allows us to showcase a variety of our engines to thousands of potential customers from around the world," said Steve Corley, Chief Sales Officer for DEUTZ Corporation. "Products like our TCD 3.6 L4 engine, shown in multiple configurations, help to show visitors some of the innovations DEUTZ offers into the marketplace. For instance our highly cost effective TCD 3.6 L4 High Torque configuration avoids the need to install an expensive SCR system, without compromising overall performance."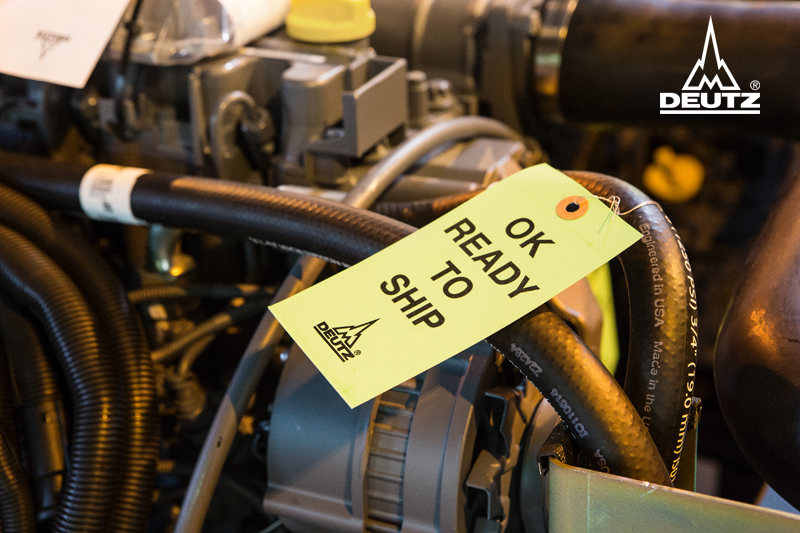 DEUTZ Corporation will also exhibit an engine produced from one of three production lines at the new DEUTZ value-added production facility in Pendergrass, GA. The engine will serve to illustrate the innovative approach DEUTZ Corporation uses, in order to provide solutions to OEM partners.
"Thanks to the purchasing power of our international supply contracts, and our technical know-how, we are able to relieve our OEM partners of many of the complex engineering and production activities," said Robert Mann, President and CEO for DEUTZ Corporation. "DEUTZ Corporation is able to support any OEM partner with our value-add service, from the very large global OEMs to mid-sized manufacturers."
DEUTZ engine models represented at Booth N2637 will include:
TCD 2.9 L4 (75 hp @ 2600 rpm)
TCD 3.6 L4 High Torque (74 hp @ 2300 rpm)
TCD 3.6 L4 Power Pack (122.4 hp @ 2300 rpm)
TCD 4.1 L4 (154 hp @ 2300 rpm)
TCD 3.6 L4 Value-Add Package (99 hp @ 2300 rpm)
"Participating at World of Concrete each year gives us the opportunity to catch up with many of our distributor partners and friends in the industry," said Dave Combs, Vice President of Distribution for DEUTZ Corporation. "We enjoy interacting with customers in order to discuss how well both we and our distributor partners are meeting their needs."
DEUTZ engines are recognized for their proven performance, across a variety of applications. As a result, attendees to World of Concrete won't have to look too far before they come across equipment powered by DEUTZ.
A partial list of OEM partners displaying product powered by DEUTZ engines includes Diamond Products, Gehl Co.,Putzmeister Americas Inc., Skyjack Inc., and Terex.
DEUTZ Corporation is a subsidiary of DEUTZ AG, a global leader in the production and support of support of diesel and natural gas engines.
DEUTZ AG announced the production of its nine millionth engine in 2015.
Headquartered in Norcross Georgia, a suburb of Atlanta, DEUTZ Corporation supports the DEUTZ product range of 30 – 700 hp diesel and natural gas engines. The organization serves as a sales, service, parts, and application engineering center for the Americas, employing nearly 200 people.
In addition, DEUTZ Corporation operates a value-added production facility for some of its key OEM partners, as well as an engine remanufacturing facility in Pendergrass, Georgia.
To learn more about DEUTZ Corporation, as well as its complete line of diesel and natural gas engines, please visit www.deutzamericas.com.