Joey Mobbs Named DEUTZ® Xchange Sales Manager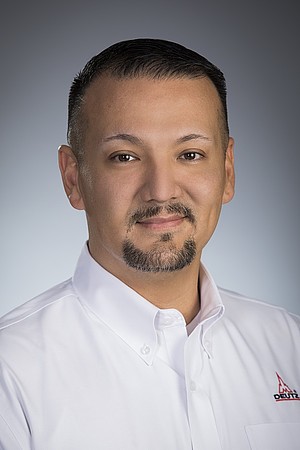 PENDERGRASS, GA (July 11, 2017) -- DEUTZ Corporation has chosen Joey Mobbs to be the new sales manager for the company's DEUTZ Xchange remanufactured engine division. He will report to Grant MacNeil, director of service sales for DEUTZ.
"We're excited to see Joey move into this new role," said MacNeil. "The relationships he's developed with our dealers, distributors, OEMs and fleet customers have uniquely prepared him to take on this challenge."
Mobbs has been with DEUTZ since 2011. His first position was in the warranty/service department where he assisted with claims processing and completion. From there, he moved into a position as a corporate trainer, providing classroom, hands-on training to national rental companies, fleet organizations and OEMs. Since 2014, Mobbs has been an OEM account manager for all national rental companies in the United States.
"Taking on this new position seems like a natural progression in my career with DEUTZ," said Mobbs. "I really enjoy assisting our customers with their service needs. My background is in sales, and I feel like this move to DEUTZ Xchange will also draw upon those skills, benefitting both my career and the DEUTZ Xchange program."
DEUTZ Xchange engines are totally remanufactured, making them a sound alternative to the rebuilt engines found in today's marketplace. Each Xchange engine goes through a 300-point reconditioning process according to its original blueprint specifications. Original engines are disassembled and all parts are tested and cleaned. Then, they're reassembled, brought up to the latest stage of technical development and inspected to ensure they meet precise specifications.
"The need for remanufactured engines has continued to grow," Mobbs said. "Our Xchange program fills a unique niche by helping OEMs and their end users enjoy durable, quality engines at a lower cost. Providing great service is a DEUTZ hallmark, and I look forward to continuing that tradition in my new position."
To learn more about DEUTZ Power Centers or Service Centers, as well as the complete line of DEUTZ diesel and natural gas engines, please visit www.deutzsupport.com
ABOUT DEUTZ CORPORATION:
For more than 150 years, DEUTZ engines have supplied customized, cost-effective power to a broad array of machine types and market segments. The 9 millionth DEUTZ engine was produced in 2015. From its headquarters in Norcross, GA, DEUTZ Corporation, a subsidiary of DEUTZ AG, supports its product range of 30- to 700-hp diesel and natural gas engines. The company is committed to providing optimized power solutions from the drawing board to prototype to production release. The organization serves as a sales, service, parts, and application engineering center for the Americas, employing nearly 200 people. DEUTZ Corporation also operates a value-added production facility for some of its key OEM partners, as well as an engine remanufacturing facility in Pendergrass, Georgia. Strategically located DEUTZ Power Centers and Service Centers are designed uniquely support both OEM partners and end users. For more information, visit www.deutzamericas.com.