DEUTZ® Updates Service Locator App, Releases Android Version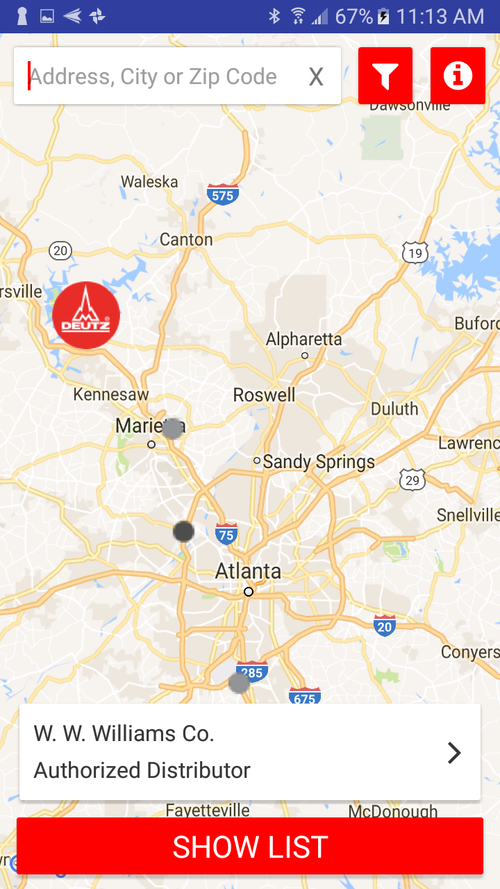 NORCROSS, GA (July 18, 2017) -- DEUTZ Corporation has improved its DEUTZ Service Locator app and released a new version of the app for Android devices.
Users of the updated DEUTZ Service Locator app can now quickly find authorized DEUTZ distributors, full-service dealers, OEM full-service dealers and OEM dealers within a 120-mile radius simply by entering their addresses, cities or zip codes. Distributors and dealers listed within the app must meet rigorous training criteria to ensure customers receive exemplary service for their DEUTZ engines.
"Training is a crucial aspect of being part of the DEUTZ service network," said Russell Sauer, supervisor of technical training for DEUTZ. "For example, each distributor location is required to participate in over 430 hours of training covering the service and repair of our full product line. Full-service dealers are held to a similar standard with at least 216 hours of mandatory training. In both cases, regular re-certifications are used to maintain their proficiency and adapt to our ever-changing market."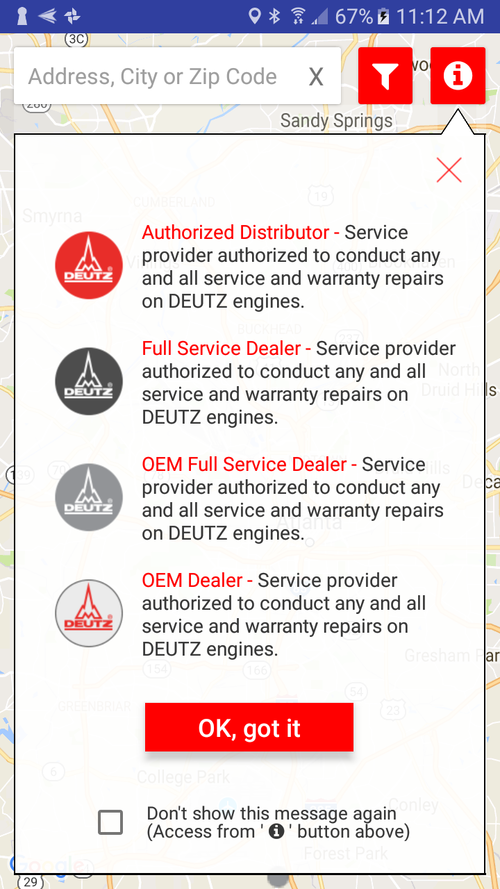 Users who currently have the old version of the DEUTZ Service Dealer Locator app installed on their mobile devices simply need to update the app to get the most current version. Individuals who are downloading the app for the first time can visit the iTunes Store or Google Play, search for "DEUTZ Service Locator" and install the app by following the prompts. For the best possible user experience, all app users should check the general settings on their phones or tablets to ensure both WiFi and Location Services are turned on.
"We had our customers in mind when we designed the app, because we realize that customers can't afford to have an engine down," said Jeff Wolfe, director of marketing for DEUTZ. "On every single job site, productivity is on the line. That's why we ensure every single distributor and dealer listed on the app has the right tools to get the job done for DEUTZ engine customers."
To learn more about DEUTZ Corporation, as well as its complete line of diesel and natural gas engines, please visit www.deutzsupport.com
ABOUT DEUTZ CORPORATION:
For more than 150 years, DEUTZ engines have supplied customized, cost-effective power to a broad array of machine types and market segments. The nine-millionth DEUTZ engine was produced in 2015. From its headquarters in Norcross, GA, DEUTZ Corporation, a subsidiary of DEUTZ AG, supports its product range of 30- to 700-hp diesel and natural gas engines. The company is committed to providing optimized power solutions from the drawing board to prototype to production release. The organization serves as a sales, service, parts, and application engineering center for the Americas, employing nearly 200 people. DEUTZ Corporation also operates a value-added production facility for some of its key OEM partners, as well as an engine remanufacturing facility in Pendergrass, Georgia. Strategically located DEUTZ Power Centers and Service Centers are designed uniquely support both OEM partners and end users. For more information, visit www.deutzamericas.com.