DEUTZ® Corporation and Gwinnett Tech Partner to Produce Tomorrow's Diesel Technicians
Norcross, GA (June 6, 2016) DEUTZ Corporation and Gwinnett Technical College of Lawrenceville, GA are helping students in the College's Heavy Diesel Service Technician program prepare for their future careers. As part of the new DEUTZ Technical Education Partnership, DEUTZ Corporation has donated seven diesel engines to the program, giving students hands-on experience with modern technology.
"Our industry is suffering from a lack of well-trained technicians," said Robert Mann, DEUTZ Corporation president and CEO. "Off-highway diesel engine emission regulations have become increasingly stringent, necessitating the use of electrical controls and exhaust after treatment systems. As a result, diesel engine technicians need additional in-depth training."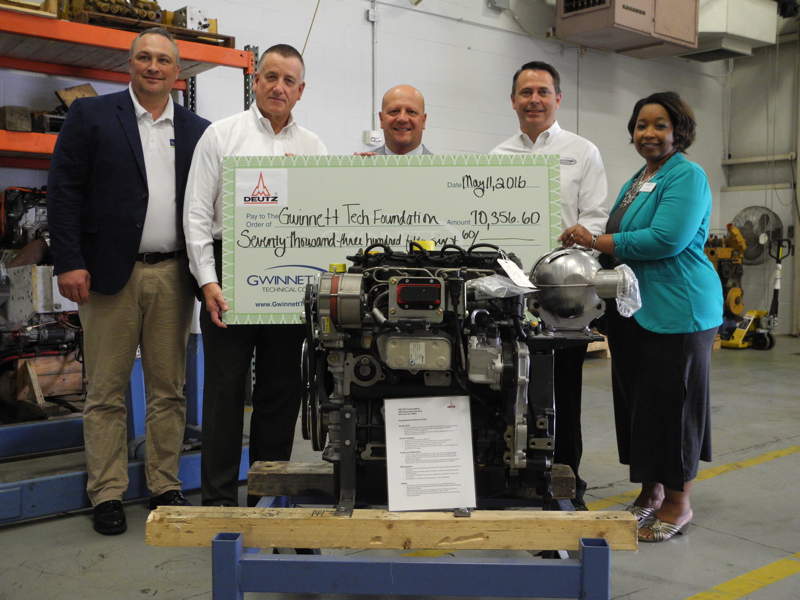 Gwinnett Tech's Heavy Diesel Service Technician Program educates students on both theory and diagnosis of the basic diesel engine systems found in heavy equipment, safety and fuel systems. "The Heavy Diesel Service Technician Program is at the core of our Automotive Service Technology and Automotive Technology programs," said Dr. D. Glen Cannon, president of Gwinnett Technical College. "This particular program attracts students who want to pursue careers in the diesel repair industry to Gwinnett Tech, and with our in-depth instruction and new equipment, we expect its popularity to grow. It is such a crucial program to our school, and it is an honor to partner with DEUTZ Corporation, a training and equipment leader in the diesel engine industry."
By donating engines and training, DEUTZ Corporation hopes to help increase the number of trained diesel technicians available within the heavy equipment industry. Students beginning the Heavy Diesel Service Technician program in August 2016 will have a full academic year to complete and obtain their certificates from Gwinnett Technical College. The program's length allows students to submerge themselves in their training and develop extensive knowledge. Approximately 40 students will be under the tutelage of Johnny Stalling, a Gwinnett Tech instructor with an extensive diesel engine background. To further assist program students, Stalling will periodically return to DEUTZ Corporation for additional training. DEUTZ Corporation wants this partnership to be a lasting one, and keeping the program's instructor supplied with the latest information will certainly help."
"The program itself is tied together with an internship at a local diesel equipment repair facility," said Gail Edwards, dean of automotive and trades at Gwinnett Tech. "Because we're able to offer this type of practical education, we've been able place 100% of our program's graduates."
"Tier 4 diesel engine technology can be quite complex," said John Stahl, warranty and training manager for DEUTZ Corporation. "That's why DEUTZ is also providing the school with our original factory electronic part catalog and scan tools, so students will be familiar with OEM resources available in the field."
DEUTZ Corporation plans to monitor the progress of a few students in the program to see how the new equipment and training have prepared them for their careers. Should the DEUTZ Technical Education Program with Gwinnett Tech prove successful, DEUTZ will roll the program out to other technical schools across the country.
"By putting DEUTZ products and training in the school, we hope to provide service managers with DEUTZ-powered equipment with more experienced, savvy technicians, should the need arise," said Stahl.
"It is a pleasure to partner with a progressive school, especially one that has such a top-quality diesel program," said Mann. "By working with Gwinnett Tech, we hope to ensure that diesel technicians receive the correct balance of mechanical and electronic training to establish long, productive and fulfilling careers."
ABOUT GWINNETT TECH:
Gwinnett Technical College, one of Georgia's largest technical colleges, is committed to delivering relevant knowledge to meet the workforce training needs of its community. The College offers more than 150 associate degree, diploma and certificate programs and hundreds of seminars, workshops and courses providing specialized training. Gwinnett Tech is Gwinnett County's largest provider of corporate training and also serves residents and businesses in north Fulton County. Gwinnett Technical College is accredited by the Southern Association of Colleges and Schools Commission on Colleges to award the associate degree. Contact the Commission on Colleges at 1866 Southern Lane, Decatur, Georgia 30033-4097 or call 404-679-4500 for questions about the accreditation of Gwinnett Technical College. In addition, some college programs hold separate licensure or accreditation status with appropriate agencies. For more information, visit www.GwinnettTech.edu. A unit of the Technical College System of Georgia.
ABOUT DEUTZ CORPORATION:
For more than 150 years, DEUTZ engines have supplied customized, cost-effective power to a broad array of machine types and market segments. The 9 millionth DEUTZ engine was produced in 2015. From its headquarters in Norcross, GA, DEUTZ Corporation, a subsidiary of DEUTZ AG, supports its product range of 30- to 700-hp diesel and natural gas engines. The company is committed to providing optimized power solutions from the drawing board to prototype to production release. The organization serves as a sales, service, parts, and application engineering center for the Americas, employing nearly 200 people. DEUTZ Corporation also operates a value-added production facility for some of its key OEM partners, as well as an engine remanufacturing facility in Pendergrass, Georgia. Strategically located DEUTZ Power Centers and Service Centers are designed uniquely support both OEM partners and end users. For more information, visit www.deutzamericas.com.