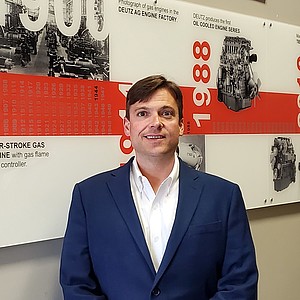 DEUTZ NAMES PATRICK BARNES REGIONAL BUSINESS MANAGER
NORCROSS, GA (March 3, 2020) – Patrick Barnes is DEUTZ Corporation's newest regional business manager. Barnes will be responsible for servicing and supporting distribution and sales throughout the Atlantic Region, which spans from New England through the Eastern Gulf States.
"DEUTZ has such a tremendous reputation for excellence in engine manufacturing, sales and service," Barnes said. "I'm looking forward to using the expertise I've gained throughout my career to build new relationships and help current and future customers in the Atlantic Region experience the level of quality and performance that DEUTZ can bring to their operations."
Barnes comes to DEUTZ from KBH Corporation, a farm equipment manufacturer, where he served as the company's Southeastern Territory representative. He is a graduate of Mississippi State University with a bachelor's degree in marketing.
"It's great to have Patrick join the Regional Sales Team," said John Dutcher, director of regional sales for DEUTZ Corporation. "He has ample Tier-4-engine expertise, understands the construction and agricultural machinery markets well and he's a good communicator. In fact, Patrick comes to DEUTZ from one of our customers in the Agriculture sector, which means he already has an excellent understanding of our company. We look forward to working with him."
To learn more about DEUTZ Corporation, as well as its complete line of diesel and natural gas engines, please visit www.deutzamericas.com.
ABOUT DEUTZ CORPORATION:
For more than 150 years, DEUTZ engines have supplied customized, cost-effective power to a broad array of machine types and market segments. The nine millionth DEUTZ engine was produced in 2015. From its headquarters in Norcross, GA, DEUTZ Corporation, a subsidiary of DEUTZ AG, supports a broad range of engines with capacities up to 620 kW that are used in construction equipment, agricultural machinery, material handling equipment, stationary equipment, commercial vehicles, rail vehicles and other applications.
The company is committed to providing optimized power solutions from the drawing board to prototype to production release. The organization serves as a sales, service, parts, and application engineering center for the Americas, employing nearly 300 people. DEUTZ Corporation also operates a value-added production facility for some of its key OEM partners, as well as an engine remanufacturing facility in Pendergrass, Georgia. Strategically located DEUTZ Power Centers and Service Centers are designed uniquely support both OEM partners and end users. For more information, visit For more information, visit www.deutzamericas.com.