DEUTZ® Corporation Receives Fifty Year Member Recognition from AED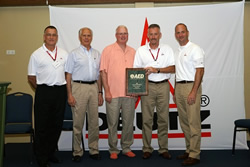 Norcross, Georgia, (May 22, 2015) – DEUTZ Corporation received special recognition at its annual Distributor Meeting last week by AED, for being a member of the organization for the past fifty years.
The annual DEUTZ Distributor Meeting was held this year during the week of May 11, in Montego Bay, Jamaica.
Brian McGuire, President & CEO, and Bob Henderson, Executive Vice President & COO were both on-hand from AED to make the presentation to DEUTZ Corporation.
During the presentation, Brian McGuire noted, "It is really a big deal for us to make this presentation, since DEUTZ Corporation has been a member of AED for literally half of the time our organization has been in existence."
Robert Mann, President & CEO of DEUTZ Corporation accepted the recognition on behalf of the organization.
Mann noted, "AED membership has always been important to us. AED is a great organization, and we are pleased to be involved. We've made so many good friends through AED over the years, and have spent time during many annual meetings catching up with them. We're proud to be a part of AED, and to accept this recognition."
Bob Henderson also presented to DEUTZ distributors during the second day of the annual meeting, in a General Session segment entitled, "Distribution: Today's Challenges."
Dave Combs, Vice President of Distribution for DEUTZ Corporation remarked, "It was really great to have Bob Henderson present during our Distributor Meeting. Bob always has plenty of insight to share regarding legislative issues, as well as distributor best practices."
Combs added, "It was especially timely for Bob to present in our General Session, since the theme of our meeting this year was, "Powered by Partnerships."
Associated Equipment Distributors (AED) is an international trade association representing companies involved in the distribution, rental and support of equipment used in construction, mining, forestry, power generation, agriculture and industrial applications.
AED membership is made up of 500 distributor member companies, accounting for more than $15 billion of annual sales of construction equipment and related supplies and services in the U.S. and Canada. AED member distributors achieve, on average, more than $40 million per year in revenues.
To learn more about Associated Equipment Distributors (AED), you may visit www.aednet.org.
DEUTZ engines have played an important role in the mechanization and development of the Americas, since 1876. The first DEUTZ engines sold in the United States were marketed by Schleicher, Schumm & Co., in Philadelphia. This company was succeeded in 1894 by the Otto Gas Engine Works, also located in Philadelphia.
The DEUTZ engines were re-introduced to the North American market in 1951 by Diesel Energy Corporation, which later became a DEUTZ subsidiary in 1955, and its name was changed to DEUTZ Corporation in 1974.
DEUTZ Corporation, a subsidiary of DEUTZ AG, is a sales, product support, parts, training, and application engineering center for the Americas, supporting the DEUTZ product range of 30 – 700 hp diesel and natural gas engines.
Headquartered in Norcross Georgia, a suburb of Atlanta, the organization employs over 175 people. In addition, DEUTZ Corporation operates a remanufacturing production facility (Xchange program), in Pendergrass, Georgia.
More information about DEUTZ Corporation, as well as its complete line of diesel and natural gas engines may be found by visiting www.deutzamericas.com