DEUTZ® Xchange to Supply Engines for Terex AWP Reconditioning Services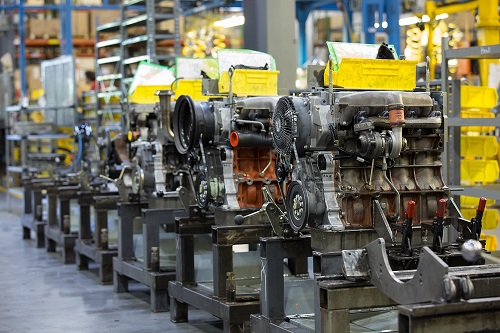 New relationship is foundation for strong mutual growth
Norcross, GA and Redmond, WA (Oct. 4, 2016) -- DEUTZ Corporation will provide Terex Aerial Work Platforms (AWP) Reconditioning Services with DEUTZ Xchange remanufactured engines for reconditioned Genie® aerial equipment, including boom lifts, scissor lifts and telehandlers.
"Terex was impressed with the three-year transferrable warranty that we offer with our DEUTZ Xchange engines," said Robert Mann, DEUTZ Corporation's president and CEO. "That warranty, our proven track record as a trusted supplier of quality product, and the fact DEUTZ remanufactured engines can be serviced by any DEUTZ distributor were critical factors in selecting DEUTZ for the business."
"Terex AWP Reconditioning Services provides customers with a cost-effective alternative to purchasing new machines," said Bob Bartley, Genie senior director of product support and reconditioning for Terex AWP. "The increasing popularity of reconditioned Genie aerial equipment is supported by a same-as-new warranty, short lead time and strong service network. DEUTZ Xchange engines mirror the fundamental qualities integral to these reconditioned units.
"Due to the rapid expansion of the reconditioning business, Terex needed to partner with a supplier that has a long, proven track record of supporting our operation's growth. The reconditioning business is highly dynamic due to the wide variety of Genie aerial equipment models available. It would be challenging to grow this business without a flexible, capable supplier."
DEUTZ's Pendergrass, Ga. remanufacturing facility was able to ramp up supply to Terex within two weeks of receiving the initial order. Existing Terex production logistics channels were leveraged to smoothly add the incremental demand from the company's reconditioning operations. Beyond engine supply, DEUTZ Xchange operations will provide a "plug-and-play" dressed engine including mounting components and ancillary system installed to minimize cycle time and manufacturing complexity for the Terex reconditioning facility.
"We're honored to partner with Terex," said Steve Corley, chief sales officer for DEUTZ Corporation. "Our combined efforts with Terex will both grow and strengthen the relationship with our broad, shared, end-customer base."
For more information about Terex AWP and Genie aerial equipment, please visit www.genielift.com. To learn more about DEUTZ Corporation and its complete line of diesel and natural gas engines, visit www.deutzamericas.com.
ABOUT TEREX:
Terex Corporation is a global manufacturer of lifting and material processing products and services delivering lifecycle solutions that maximize customer return on investment. Major Terex brands include Terex, Genie, Powerscreen and Demag. Terex solutions serve a broad range of industries, including construction, infrastructure, manufacturing, shipping, transportation, refining, energy, utilities, quarrying and mining. Terex offers financial products and services to assist in the acquisition of Terex equipment through Terex Financial Services. More information about Terex is available on its website: www.Terex.com, on its LinkedIn page — www.linkedin.com/company/terex and Facebook page -- www.facebook.com/TerexCorporation.
ABOUT DEUTZ CORPORATION:
For more than 150 years, DEUTZ engines have supplied customized, cost-effective power to a broad array of machine types and market segments. The nine millionth DEUTZ engine was produced in 2015. From its headquarters in Norcross, GA, DEUTZ Corporation, a subsidiary of DEUTZ AG, supports its product range of 30- to 700-hp diesel and natural gas engines. The company is committed to providing optimized power solutions from the drawing board to prototype to production release. The organization serves as a sales, service, parts and application engineering center for the Americas, employing nearly 200 people. DEUTZ Corporation also operates a value-added production facility for some of its key OEM partners, as well as an engine remanufacturing facility in Pendergrass, Georgia. Strategically located DEUTZ Power Centers and Service Centers are designed uniquely support both OEM partners and end users. For more information, visit www.deutzamericas.com.
MEDIA CONTACTS:
Jeff Wolfe
Marketing Manager
DEUTZ Corporation
770-564-7250
wolfe.j@deutzusa.com
Amber Reed
Communications Consultant
Terex Aerial Work Platforms
206-771-0846
amber.reed@terex.com
Lynette S. Von Minden
Swanson Russell for DEUTZ Corporation
402-437-6457
lynettev@swansonrussell.com