DEUTZ® Engines to be Widely Represented at ICUEE 2015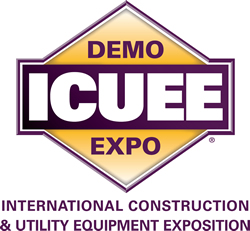 Norcross, Georgia, (September 22, 2015) – Final preparations are underway for DEUTZ Corporation's participation in ICUEE 2015.
The demo-oriented event takes place from September 29 thru October 1, in Louisville, Kentucky.
According to AEM, show owner and producer, "The International Construction and Utility Equipment Exposition (ICUEE), also known as The Demo Expo, is the premiere event for utility industry professionals to gain comprehensive insight into the latest technologies, innovations, insights, and trends affecting their industry."
DEUTZ Corporation will have two of its engine models on-hand, as well as a factory designed and assembled Power Pack configuration with the TCD 3.6 L4 engine, on display at its booth.
The Power Pack unit will help to illustrate a creative customized solution, fully ready to run upon delivery to DEUTZ customers.
DEUTZ engine models represented at its indoor booth space 3952 will include the following:
TCD 2.9 L4
75 hp at 2600 rpm
TCD 3.6 L4 Power Pack
74 hp at 2300 rpm
TCD 4.1 L4
154 hp at 2300 rpm
DEUTZ engines will also be represented all around ICUEE, through various OEM partners, located in the outdoor demo area throughout the show.
CUEE 2015 attendees are encouraged to stop by Booth 3952, in order to learn more about the complete line of DEUTZ engines.
DEUTZ engines have played an important role in the mechanization and development of the Americas, since 1876. The first DEUTZ engines sold in the United States were marketed by Schleicher, Schumm & Co., in Philadelphia. This company was succeeded in 1894 by the Otto Gas Engine Works, also located in Philadelphia.
The engines were re-introduced to the North American market in 1951 by Diesel Energy Corporation, which later became a DEUTZ subsidiary in 1955, and its name was changed to DEUTZ Corporation in 1974.
DEUTZ Corporation is a sales, service, parts and application engineering center for the Americas, supporting the DEUTZ product range of 30 – 700 hp diesel and natural gas engines.
Headquartered in Norcross Georgia, a suburb of Atlanta, the organization employs nearly 200 people. In addition, DEUTZ Corporation provides Value Added Production services to some of its key OEM partners, and operates an XChange engine remanufacturing facility in Pendergrass, Georgia.
More information about DEUTZ Corporation, as well as its complete line of diesel and natural gas engines may be found by visiting