New Management Team Prepares DEUTZ® Service Center Chicago for October 1 Opening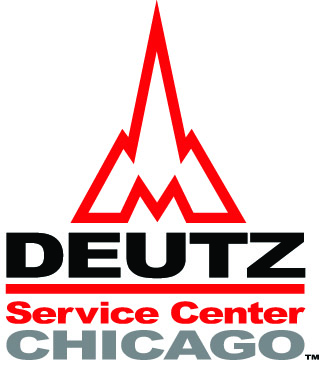 Facility in Elgin, IL will sell and maintain DEUTZ engines, provide parts and emergency service
ELGIN, IL (Sept. 27, 2017) -- DEUTZ Service Center Chicago will open at 1250 Davis Road in Elgin, Illinois on October 1, 2017. The new Service Center will serve customers in Northern and East Central Illinois as well as Northern Indiana.
"We're excited to open this new Service Center in the Chicagoland area," said Dominick A. "Nick" Vermet, general manager for DEUTZ Power Center Midwest, DEUTZ Service Center St. Louis and DEUTZ Service Center Chicago. "We're always seeking ways to help our customers improve their uptime, efficiency and productivity, and DEUTZ Service Center Chicago will now help us provide a higher level of support in a very important geographic market."
DEUTZ Service Centers provide regularly scheduled maintenance and emergency service of DEUTZ engines, either at the Service Center location or at the customer's site via traveling service technicians. Service Centers also sell genuine DEUTZ parts and fluids.
"We're starting out with two fully equipped field service trucks, making it possible for us to go to our customers when they need us," Vermet said. "Drive-up customers will benefit from our extensive parts counter and receive expert assistance from our in-house technicians."
Sal Mangialonini will be the branch manager for DEUTZ Service Center Chicago, while Ron Schmidt is the location's service supervisor. Mangialonini has 35 years of diesel engine experience, with time spent in sales, service, parts and management for companies including SES, Inc., Freightliner, Kenworth and Detroit Diesel. Schmidt comes to DEUTZ Service Center from Wolter Power Systems with 13 years of experience as a journeyman field technician and welder/fabricator in the industrial equipment industry. He also maintains a "Train the Trainer" status with DEUTZ Corporation.
"Sal has a great reputation in the Chicago and Northwest Indiana marketplace, and Ron offers a tremendous amount of experience with DEUTZ engines," Vermet said. "Both Sal and Ron have the kind of leadership skills and industry knowledge that can help us take DEUTZ Service Center Chicago to the next level."
To reach the team at DEUTZ Service Center Chicago, call (331) 276-7686. Learn more about DEUTZ Corporation and its complete line of diesel and natural gas engines at www.deutzamericas.com
ABOUT DEUTZ CORPORATION:
For more than 150 years, DEUTZ engines have supplied customized, cost-effective power to a broad array of machine types and market segments. The nine millionth DEUTZ engine was produced in 2015. From its headquarters in Norcross, GA, DEUTZ Corporation, a subsidiary of DEUTZ AG, supports its product range of 30- to 700-hp diesel and natural gas engines. The company is committed to providing optimized power solutions from the drawing board to prototype to production release. The organization serves as a sales, service, parts, and application engineering center for the Americas, employing nearly 200 people. DEUTZ Corporation also operates a value-added production facility for some of its key OEM partners, as well as an engine remanufacturing facility in Pendergrass, Georgia. Strategically located DEUTZ Power Centers and Service Centers are designed uniquely support both OEM partners and end users. For more information, visit www.deutzamericas.com.